The New RICOH Ri 4000 Direct-to-Garment Printer
Our most advanced DTG printer brings unparalleled efficiency and garment versatility to high-performing businesses and print shops. Now prints on 100% polyester and completely eliminates the need for manual pretreatment.
Unlock New Business Opportunities
A new era of speed and efficiency for more profitable DTG businesses
Engineered for faster ROI: From built-in pretreatment, and newly formulated inks, to automated maintenance, streamline your workflow, save costs on all consumables, and optimize your inventory.
Higher productivity: Get from design to print in record time. Print full-color graphics in under 92 seconds, which includes automatic pretreatment, saving you significant time with fewer manual errors.
One-stop DTG shop: Whether you're new to DTG or an expert, get dedicated support, onsite training, and any accessories you need like platens, pretreatment, and heat presses to start selling quickly.
Ricoh Ri 4000 Package Includes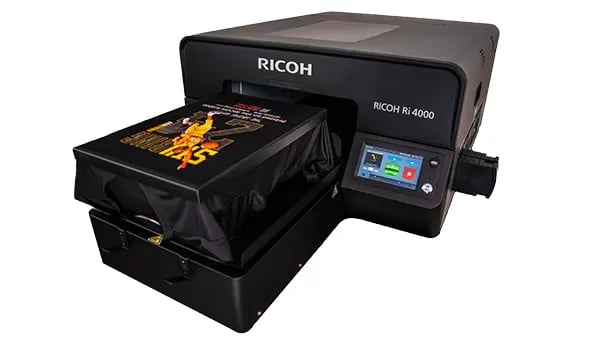 RICOH Ri 4000 DTG Printer with 1-year Warranty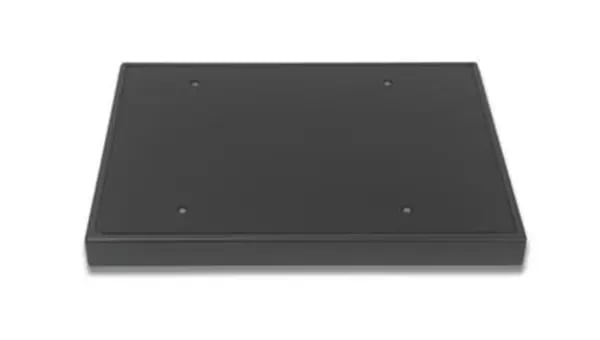 1 Medium Size Shirt Platen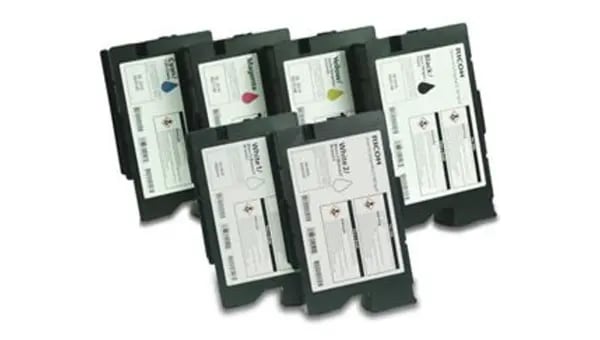 Full CMYK + 2 White Ink Cartridge Set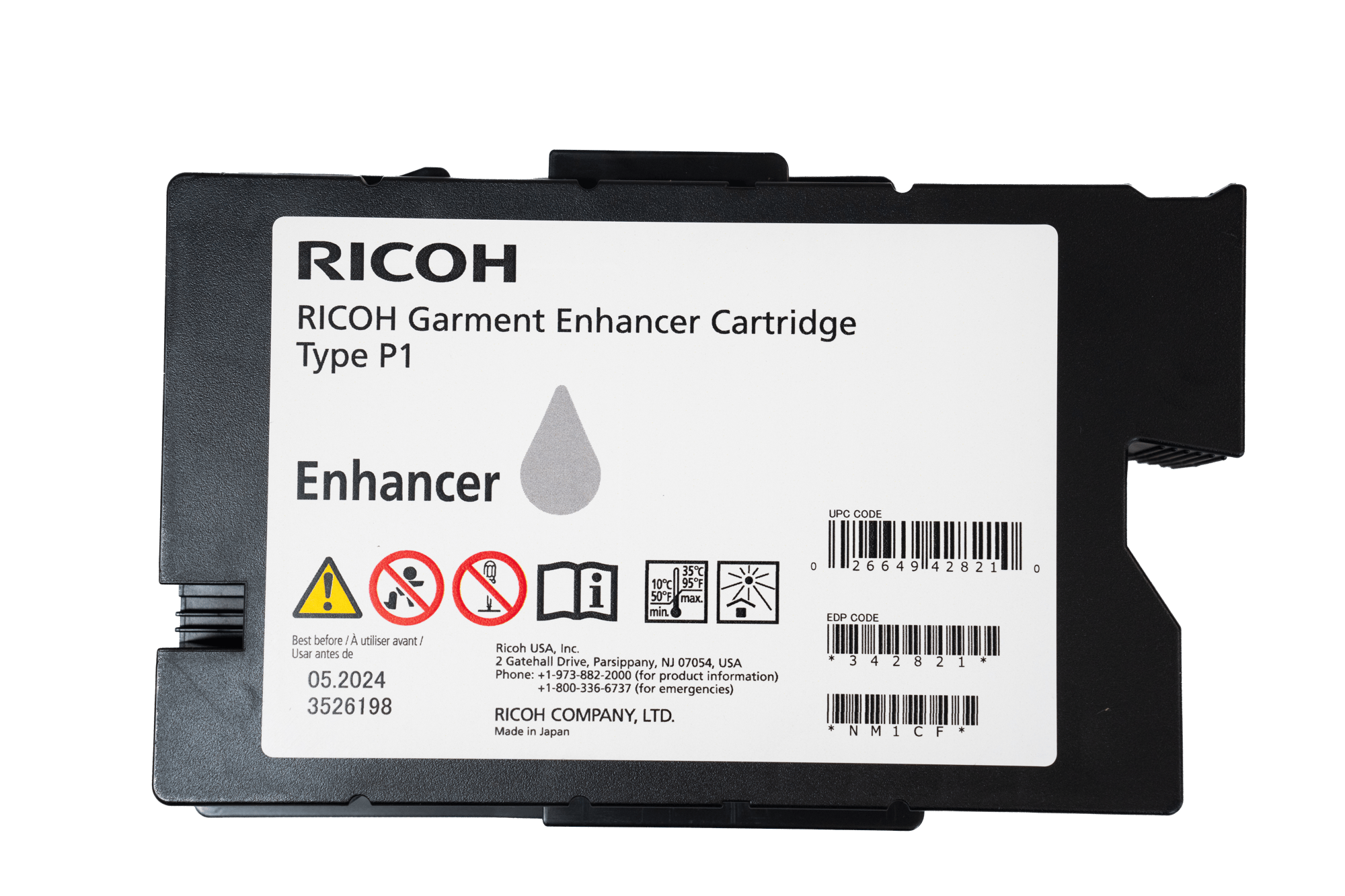 Enhancer Cartridge Set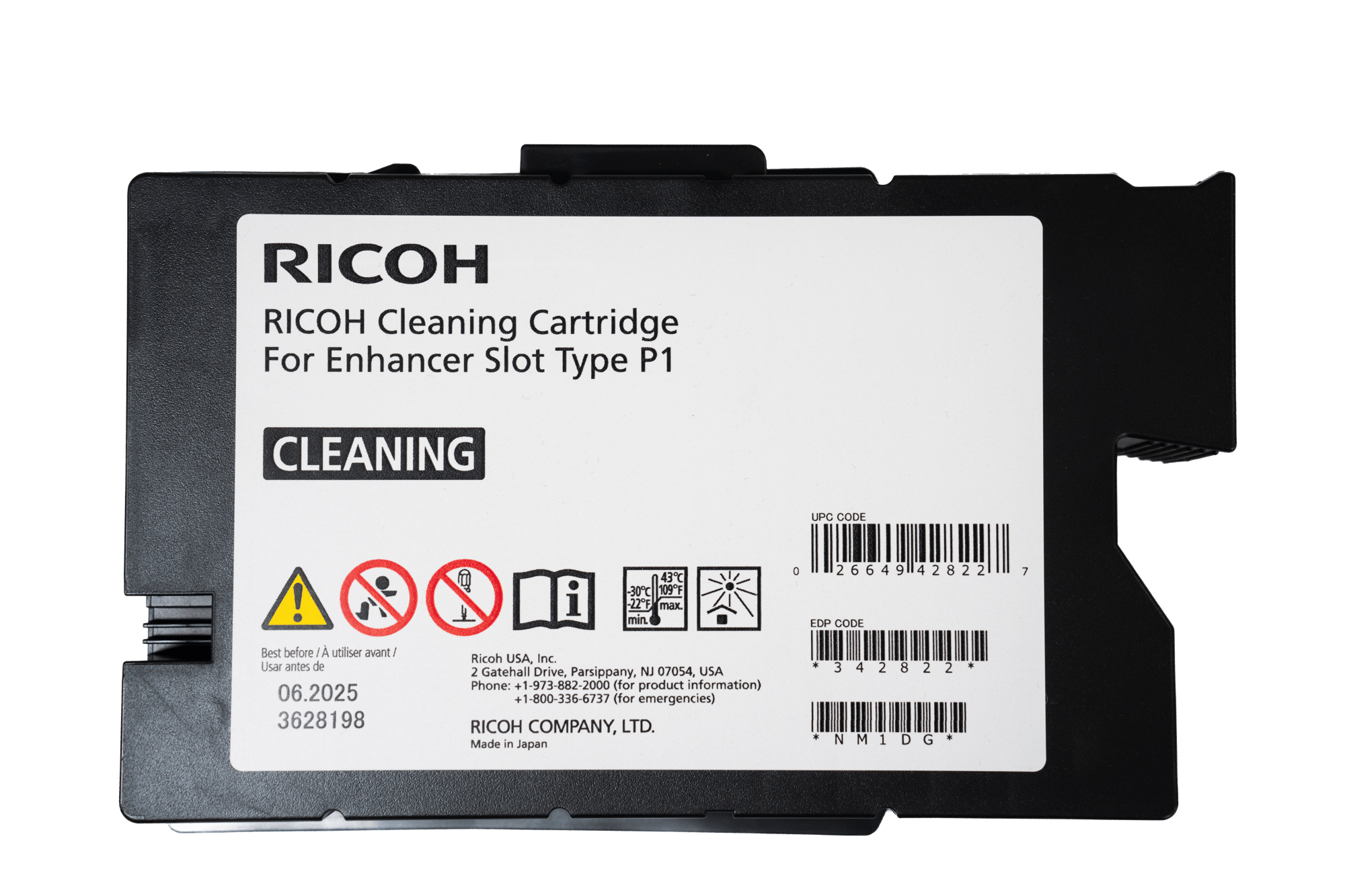 Cleaning Cartridge Set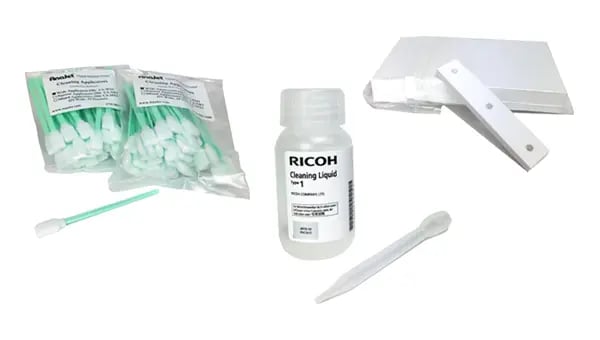 Maintenance Supply Kit
ColorGate Software Access
2000+ Graphics Package $1000 Value - FREE
Game-changing quality, efficiency, and versatility
We've taken DTG printing to the next level with the RICOH Ri 4000. With higher image quality, and end-to-end automations like pretreatment and maintenance, the Ri 4000 easily outclasses its competitors.
Quick-change dressable platens: Changing magnetic platens is a snap. Easily swap among a wide variety of platens for maximum versatility. Print up to 16" x 19.6".
High-performance print heads: The RICOH Ri 4000 is equipped with the leading genuine RICOH piezo-electric drop-on-demand print heads designed for speed, precision, and durability.
High-efficiency dual carriages: The first carriage lays down the newly developed Enhancer followed by the second carriage with the white and color layer.
Auto platen height adjustments: Easily switch between substrates and let the Ri 4000 auto optimize the platen height for the best prints. Automatic, laser-assisted height adjustment speeds up production and foolproofs prints by positioning your platen with precision.
7" touchscreen with smart alerts: Large 7" touchscreen delivers a vibrant, full-color display with upgraded graphical interface, intuitive controls, and advanced technologies. Includes an operation guide that provides smart alerts and maintenance reminders.
New enhancer and ink formulas: Equipped with 4 cartridges of enhancers, 4 CMYK, and 2 white. Ri 4000's inks are safe, long-lasting, and vibrant, with superior color performance even on 100% polyester. Save ink, time, and cost by optimizing your inventory.
Upgraded with our latest technology
Prints on 100% polyester, in any color: Thanks to our latest DTG printer technology and ink formulas, expand business with printed polyester garments and meet growing demand for sportswear and other polyester fabrics with higher quality and lower costs than ever.
Built-in Enhancer cuts manual labor: Say goodbye to manual pretreatment. Ri 4000 automatically pretreats the print area by discharging the Ricoh enhancer liquid with its inkjet heads on the garment. Print in less time, less error, less operator training, and no secondary equipment.
Improved savings on inks and consumables: Save on ink costs with our newly developed ink formulations. And combined with built-in pretreatment, the Ri 4000 uses less pretreatment liquid than other printers. Get longer lasting prints with superior color performance.
Improved automatic maintenance system: Save time with more efficient maintenance procedures. With our automated maintenance systems and advanced monitoring technology, the Ri 4000 reduces manual upkeep and stays in an active, walk-up ready state.
BUILT FOR PRODUCTIVITY
Print garments with our fastest production and delivery times
Prints extremely fast. Full-color 10" x 8" graphics on light garments in less than 92 seconds (includes our time-saving automatic pretreatment process).
Less downtime between garments. Swap and load garments in seconds and with greater accuracy using our easy dressable platens. No tools required.
BUILT FOR QUALITY
Print more vibrant, longer lasting garments, including in-demand polyester sportswear
Faithfully reproduce your design in vibrant colors and fine details thanks to Ricoh's unique dual cartridge print heads that optimize the position and size of ink droplets, and white and color layer coverage.
Prints super high-resolution, up to 1200 x 1200 dpi, without a significant drop in speed (under 123 seconds for full-color 10" x 8" graphic including pretreatment).
Get amazingly accurate color management with the included ColorGATE RIP and process even the largest design files faster than ever.
BUILT FOR COST SAVINGS
Automations that make maintenance and operating profitably easy
Eliminate time setting garments. Sensors detect the thickness of every fabric, automatically adjusting table height, giving you perfect prints every time.
Significantly reduce maintenance times with intelligent auto cleaning, white ink agitation systems, and continuous monitoring of ink supply and air levels.
Set prices more accurately. Automatically calculate ink costs and consumption to see the amount of ink required and ink cost per garment.
Our most versatile printer.
Prints on 100% polyester in any color, and direct-to-film
Easily prints dark and light polyester garments: Print on 100% polyester and high-blend polyester. You'll get amazingly bright vivid graphics, creating garments that are both soft to wear and durable.
Includes DTF. Dual operation for better economics: With direct-to-film printing, print on nearly any substrate, switch between intricate and simple designs, save inventory, or change the scale of your print runs, in one printer.
Imagine beyond t-shirts. Sell any printed apparel: Expand your product line easily. Print on shirts, hoodies, pants, socks, hats, shoes, bags, and more. Speak with sales to see what platens and accessories we offer.
Contact our sales team to learn more about what the RICOH Ri 4000 DTG Printer can offer for your business. Revolutionize your DTG printing and boost your profitability with RICOH. Contact us now.
Ri 4000 Technical Specifications
| Feature | RICOH Ri 4000 |
| --- | --- |
| Printable Area | Up to 16 x 19.6 inches (40.6 x 49.8 cm) with large platen (optional) |
| Print Head Technology | RICOH Piezo-electric drop-on-demand inkjet printhead |
| Ink Chambers/Nozzles per Chamber | 8 Ricoh print heads 16 Channels/ 192 nozzles per channel |
| Print Speeds*, 10" x 8" Graphic, on light garment | Speed print: 92 seconds Fine print: 123 seconds |
| Resolution Settings | Speed: 600 x 600 dpi/ 4 pass Fine: 600 x 600 dpi/ 8 pass Super Fine: 1200 x 1200 dpi/ 16 pass |
| Ink Type | Genuine Ricoh-approved direct-to-garment water-based pigmented CMYK, white ink, and enhancer. |
| Ink Delivery System | Advanced closed-loop delivery system; Auto ink circulation system for white channels |
| Printable Substrates | 100% polyester to high-polyester blends; Cotton and DTFilm (with recommend setting & pretreatment liquid from RICOH) |
| Table Height Adjustment | Auto table height adjustment up to 1.2 inches (3 cm) |
| Maintenance Features | Precise ink monitoring, auto ink maintenance system, automated print head cleaning, power purge system to help fill and remove ink from system |
| Operating Environment | 59° - 90°F (15° - 32°C) |
| Connectivity | USB drive and Ethernet |
| Electrical Requirements | AC 100V-120V, 50-60Hz, 4.0A, Max 320 watts |
| Dimensions | 34.7 x 65.4 x 19.7 inches (88.2 x 166.2 x 50 cm) |
| Weight | 298 pounds (135 kg) |
| Curing Temperatures and Times - Heat Press (conveyor times vary) | Light Polyester (CMYK only): 248°F (120°C) Dark Polyester (CMYK + white ink): 320°F (160°C) |
| Print Tables | Medium platen (included) 12.6 x 18 inches (32 x 45.7 cm) Small platen (optional) 10.5 x 13 inches (26.6 x 33 cm) Large platen (optional) 16 x 19.6 inches (40.6 x 49.8 cm) |
| Recommended Graphics Applications | PhotoShop/Illustrator/CorelDraw/Action Illustrated |
| Compatible File Formats | TIFF, PNG, JPG, BMP, PSB, PSD (PDF, PS, EPS are supported for non-bundle editions) |
| Required Operating System | Windows 10 (Pro, Enterprise) Windows 11, Window Server 2016 Windows Server 2019 (Apple MacOS with Parallels Desktop) |
| Minimum Processor and Memory | CPU: Intel Core i3-2100 / AMD Athlon II X2 340 RAM: ≥ 4GB |
| Computer Storage | Free disc space: 120 GB |
| Display Resolution | 1280 x 1024 |
| Learn more | www.colorgate.com |
Recommended for the RICOH Ri 4000 Direct to Garment Printer
Product title
$19.99 | $24.99
Vendor
Product title
$19.99 | $24.99
Vendor
Product title
$19.99 | $24.99
Vendor
Product title
$19.99 | $24.99
Vendor